| | | |
| --- | --- | --- |
| Don't throw away your old recipes yet! Unlike other diet plans that require preparation of their recipes in order to follow their plan, enjoy your own recipes with CarboH. Eat the foods you like - don't eat the foods you don't like. | Salad is free! Eat as much as you want and be sure to include plenty of fresh onions, tomatoes, cucumbers, green or red peppers, and carrots, topped with freshly chopped garlic and diet dressing. | If you're trying to cut down on fat and cholesterol or just tired of meat at every meal, CarboH offers a variety of meat substitutes in the Protein Group and recipes to try. You don't have to be vegetarian to eat like one. |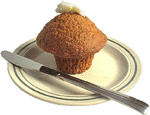 Breakfast
Muffin, any variety small


or Egg & Toast with Jelly

Morning Snack - Banana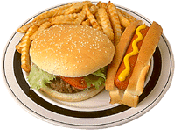 Lunch
Hamburger, Vegy Burger or Dog,
or Sandwich of your choice
with Ketchup, Mustard, Pickles
Potato Chips or Fast Food Fries (limited portion)

Afternoon Snack - Peanuts
Dinner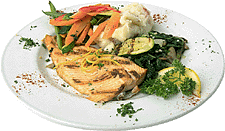 Baked Fish and Lemon with Brown Rice or Potato
Steamed Vegetable Medley of Carrots,
Green Beans, and Spinach
Free Salad with Diet Salad Dressing

Evening Snack - Fresh Strawberries
Your favorite dessert


once a week!
*All of the above foods are allowed on CarboH in limited portions.
NUtritionTipS
-Eat what you like, don't eat what you don't like. Whether you have diabetes or you're lactose intolerant, or perhaps have food allergies, CarboH is the right diet for you. Unlike other diet plans, CarboH does not use pre-planned menus. Instead we provide categories of food in an easy-to-follow diet plan. Best of all, calories have already been counted.
-Follow the CarboH diet plan for two weeks and learn new eating habits for a lifetime!
-CarboH Includes:

. . . 3 Meals + 3 Snacks to help fight hunger!

. . . Lunch or dinner out once a week with choice of Mexican, Italian, or Chinese!

. . . Your favorite dessert once a week!

. . . Convenience frozen meals for a quick lunch at work!

. . . Vegetarian friendly! From the Protein Group, choose tofu, beans, peanut butter, soy cheese, vegy burgers.
CarboH, Inc.
Barbara Herondorf, L.D.
Home | FAQ's | Sample Menu | Policies
More About CarboH | Order CarboH | Contact Us | Letters